COVID-19 brought the film and TV industry to a halt, more or less overnight on 17 March 2020. The next day, I jumped on a call with the two owners of Power Gems, and we came up with a way to harness the six years spent working together to build a global brand. The Manchester-based business designs and manufactures a specialist lighting product for film and TV production, with the majority of sales overseas.
My approach
I created a one-month campaign to strengthen their online marketing efforts (since all trade shows have been cancelled) to maintain normality, minimise risk and give their position a boost for when we come out the other side.
With no news because both facilities in Manchester and Hollywood closed and staff were furloughed, I came up with creative ways to capture attention on the website and LinkedIn. Aiming for 2-3 updates a week, I crafted good news stories such as the new hires made before lockdown, interviewed one of their customers for a thought leadership piece, and developed a knack for a good photo story (see below).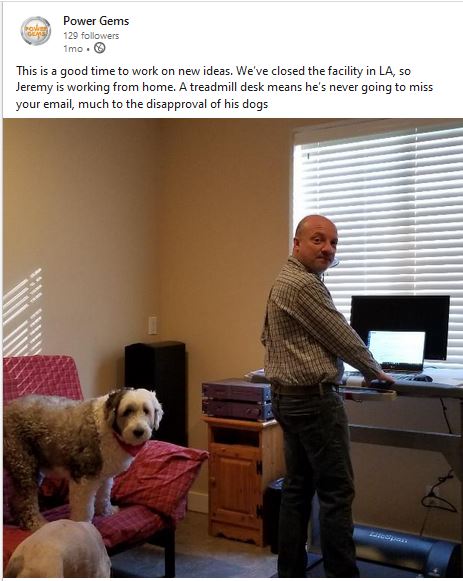 At the end of the month, I turned the news stories into a newsletter, seen by Power Gems owners to be 'a really good read and the photos are perfect. The bar has been set pretty high for our next output. ' The click-thru rate has been impressive, whether it's the focus on the personal – Jeremy holding a fish – or because we got a better response from those who are still working, is hard to say.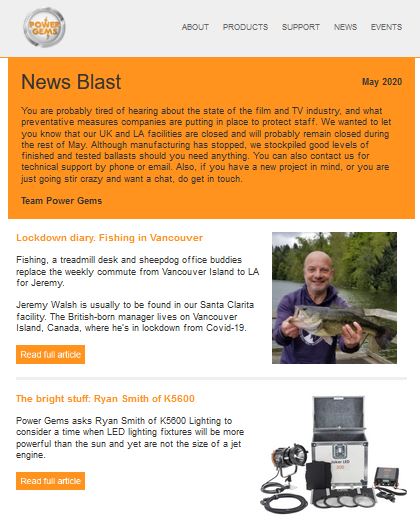 Many home workers may have extra free time. Looking to make the most of this opportunity, I created and built a survey of customers and contacts worldwide, and disseminated the insight through email, LinkedIn and the website.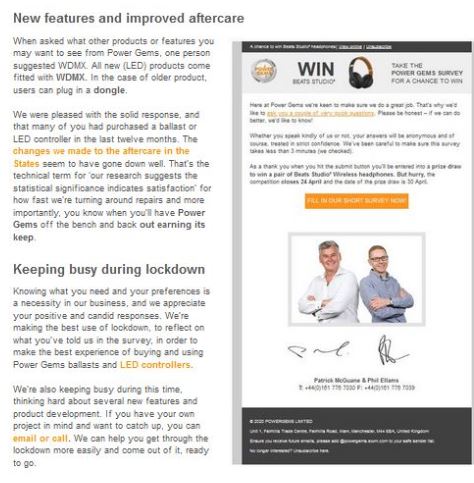 The result
The main aim throughout has been to keep Power Gems in front of mind. We seem to be winning with new orders and sales leads, during a time when running a straightforward campaign wasn't going to do it.
What next? I plan to read Chaotics: The Business of Managing and Marketing in the Age of Turbulence by Philip Kotler