Power Gems – Marketing support and content creation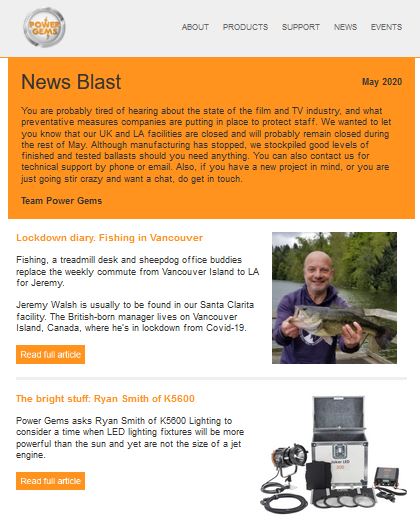 Channel: Adverts, brochure, direct marketing campaigns, email newsletter, website content, video and sales collateral
Role: Marketing and Copywriter
Key challenge
For over 20 years the largest rental companies and motion picture studios worldwide have chosen Power Gems, to supply one key element in the lighting system used in film and TV product – the electronic ballast.
My client wanted to extend their global reach, to expand their brand into new markets around the world. So, I devised an integrated campaign. We created their first brochure, first video content, a series of print adverts and mailers, website content and media coverage. A highly targeted direct marketing campaign using a regular email newsletter has helped build relations, in markets where the ballasts aren't already regarded as workhorses of the industry.
Since 2014, I have acted as their Marketing Manager, retained to provide marketing services as they expand into LED fixtures and add new products to their HMI range.
Excerpt
"An athlete suspended in time; a car crumpling on impact; both captured in incredible freeze frames made possible by high speed photography.
The rapid development of camera technology has led Power Gems to innovate a range of high power ballasts suitable for filming at extremely high frame rates for super slow motion. Boosting versions are available to maximise the light available for a short period of time, as is common in vehicle crash-test applications.
Whether in research institutions, industrial facilities or sports arena lighting, we have become trusted to provide ballasts which guarantee you get the results you want, no matter the frame rate."