Doosan – Employee communications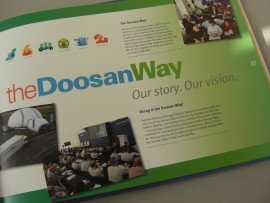 Channel: Print – magazines, yearbook, scratch cards
Role: Copywriter, editor and proofreader
Key challenge
The yearbook commissioned to commemorate the reformation of Doosan Babcock, took the form of a glossy hardback reminiscent of old style annuals. Articles were chosen to reflect the global engineering support services company's progress, but also to capture the fun the Renfrewshire employees had along the way. Produced for the first time in 2013 and distributed to employees UK-wide, the yearbook is a traditional yet modern take on employee engagement.
Other items: Creating copy for a scratch card distributed to employees to commemorate the Commonwealth Games in Glasgow.
Proofing of their magazine, Spark, a quarterly publication designed for the global employees of Doosan Power Systems.
Excerpt
"The great and the good of the world of engineering construction come together to celebrate the winners of the Doosan-sponsored Engineering Construction Industry Training & Development Awards in London on Thursday 25 April. While we (Doosan Babcock) walk away with the NETA Training Trust Employer Award, our own Jack Pooler scoops the Regional Apprentice of the Year Award for Scotland.
Being selected as one of the regional apprentice winners is a huge achievement. Over 250 apprentices completed their apprenticeship and were eligible for consideration, 30 apprentices were shortlisted for interview and eight regional finalists were selected. Congratulations to Jack."