Edinburgh Airport – Internal communications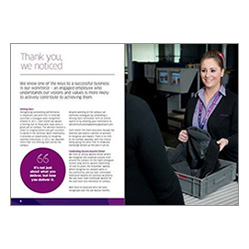 Channel: Internal comms publication – yearbook
Role: Copywriter
Key challenge
Edinburgh Airport wanted to mark the first anniversary of the change of ownership by producing a Yearbook. I was appointed to repurpose 10,000 words of content written for an external audience, to produce a 5,000 word publication for an internal audience of 500 staff and the 5,000 people on campus who work for their business partners. The aim was to celebrate success – to look back and see how far they had come since 1 June 2012 when Edinburgh Airport was created.

As their regular editor and writer (including writing their tone of voice guidelines), I was able to incorporate content from other sources, such as their newsletters, to produce a comprehensive annual review. I also used my background in internal communications to tailor the content for employees – for example, changing the section 'Recognising our people' to become 'Thank you, we noticed' with less 'our team' and more 'we' inclusivity.
The key challenge was meeting the need for a fast turnaround. It helped that I was so familar with Edinburgh Airport – so much had happened during that first year.
Excerpt
"It's hard to believe that Edinburgh Airport is celebrating its first anniversary.

So much has happened in our first year; we not only saw a change in ownership from BAA to Global Infrastructure Partners (GIP), but also the appointment of a new leadership team (including myself as Chief Executive!) followed by a restructuring. We also all started to think and work differently, to see ourselves as part of the solution, not the problem.

You may have noticed this culture change around the campus. If not that's because we believe in evolution not revolution. This is why it's good to look back and see how far we've come since 1 June 2012 when Edinburgh Airport Limited was created."