Aquila Insight – Website copywriting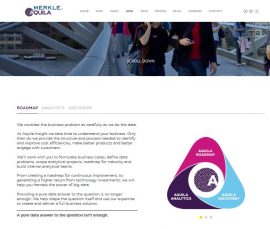 Channel: Website, sales collateral, award entries, blogging, brand bible
Role: Copywriter
Key challenge
Aquila Insight, one of the largest data analytics agencies in the UK, was founded in 2012 and tripled in size in less than three years.
From 2015, I provided copy for the redesigned website, product sales sheets, award entries and internal documents such as the brand bible and employee handbook.
In 2017, the Edinburgh-based data analytics agency was bought by US marketing agency Merkle. I continue to provide writing support, primarily blogging services.
Excerpt
"Are all marketing channels created equal? With more channels to manage and a limited marketing budget, it can be increasingly difficult to know which ones to invest in. The days of spending money and not being able to track the results are gone, with the Multichannel Attribution, an easy-to-use browser-based app from Aquila Insight.
To be effective, smart marketers use Multichannel Attribution to gain a thorough analysis of the chains of multichannel interactions – viewed through metrics, charts and tailored analysis."