Online reviews from happy customers are a great way to win more business. Marketing automation can help you, by sending emails to ask for feedback. But while automation can save you time, you also don't want to make these mistakes.
Today, The Body Shop UK sent me this email:
Immediately I was suspicious – it looked like a scam email, the business name wasn't simply the Body Shop.
Learning point: Use a sender email address that's consistent with the brand.

Then the 'Thanks for your recent purchase' raised my suspicions even more. I couldn't remember buying anything from the Body Shop.
So, I didn't open it. Much later, I remembered I had made a purchase. A month ago.
Learning point: Ask for feedback as soon as possible after a sale.
I didn't create an account, hence the great personalisation, 'Hi Guest'. Automation works well when it has the data, making each interaction relevant and tailored to the individual.
Learning point: If you don't have the data – don't personalise. Nobody wants to be referred to as 'Guest'.
The open email: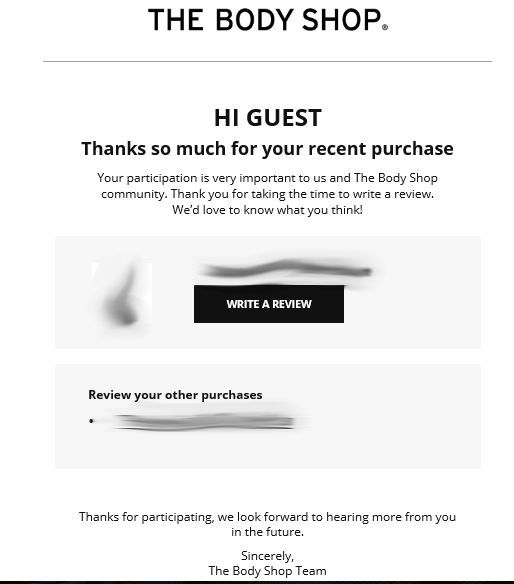 The alarm bells went off again when I read 'Thank you for taking the time to write a review'. Because it was thanking me for something I hadn't done. Immediately I feared that my credit card had been hacked and a fraudster had set up an account. I certainly hadn't written a review, so the copy implied that my identity might have been stolen.
After coming down from high alert, I read the rest of the copy – 'Thanks for participating' – presumptuous or what? Huh, when did I agree to write a review? I loathe emails signed off with 'thanks in advance', and this was taking it further.
Learning point: If you are going to make a request – be direct. Ask, but only thank them after they have agreed.
Automation has the potential to improve how we interact with a brand. Provided humans are employed to check that the process works, and injects common sense into the script of standardised emails.