Queens Cross Housing Association – Briefing paper research and writing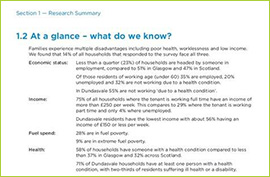 Channel: Briefing Paper
Role: Copywriter
Key challenge
Bringing together the findings of a profiling survey and a Scottish Government report, to present an accurate picture of the tenant base for Queens Cross Housing Association. The Briefing Paper needed to be packed full of insight, data and analysis, conveying information clearly and concisely. The aim was to share insight with the tenant base, MPs, MSPs, third sector partners, community leaders and other stakeholders.
I was responsible for the structure of the document, shaping the content, and writing using appropriate language to convey factual and objective information in an engaging way, with the effective use of headings and figures. Additionally, I ensured the language reflected the voice of Queens Cross Housing Association, and where appropriate, the source of the findings.
Excerpt
"Changes to the welfare system will affect at least the 41% of households surveyed whose main income comes from benefits, and in our experience we believe as many as 70% of tenants will be affected. The Association could provide initiatives to manage finances, to help tenants with the move from budgeting weekly to monthly.
Meanwhile, almost half (47%) pay for fuel by payment meters – missing out on savings from paying bills by direct debit or by being able to access lower utility tariffs."
Member of The Professional Copywriters' Network
Contact Gill Booles
35 Inveresk Village
Musselburgh
EH21 7TD
Mobile 07752 975189
Tel 0131 620 2334