Ollie & Forbes – Website copywriting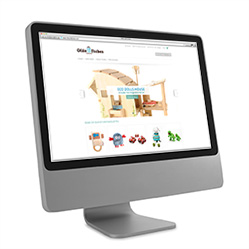 Channel: Website
Role: Copywriter, editor and proofreader
Key challenge
Writing the website for Ollie & Forbes an online gift service which sells direct to the public. The key challenge was to understand the requirements and limitations of a start-up and provide a website in keeping with their positioning as an exclusive, upmarket retailer.
Excerpt
"Is there a moose loose about the hoose? A fun and practical gift bag comprising a travel blanket, sleepsuit, hat, reversible bib and moose rattle. Funky animal prints on soft 100% organic cotton in a calming neutral palette by British design duo Ella & Otto. Suitable for little dears aged 0-6 months."
Gill was very easy going, professional with a great personal twist. She took a genuine interest in our products and understood the whole Ollie & Forbes persona, tone and voice we are trying to project. For us it was the personal touch and her ease of approach that enables us to work confidently and comfortably. Gill immediately understood our requirements and limitations, the latter being especially pertinent as we are a start-up business.

We were also very impressed with the way she extended over the brief and provided us with very creative, helpful and practical suggestions and ideas regarding current and future developments.