NHS Health Scotland campaign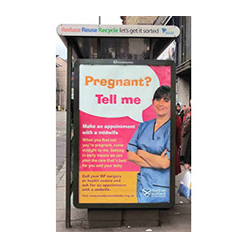 Channel: Integrated campaign
Role: Marketing, copywriting
Key challenge
Appointed by NHS Health Scotland to create compelling copy and campaign messaging to explain changes to the maternity care services in Scotland.

The key objective was to encourage women who find out they are pregnant to go direct to their midwife, rather than their GP, as early in their pregnancy as possible.

This highly integrated communication campaign includes: a professional briefing for healthcare workers involved in maternity care, a wide range of public facing material including web content, posters, bus panels and retail point of sale items.
Excerpt
"Pregnant? Tell me.

Make an appointment with a midwife.

When you find out you're pregnant come straight to me. Getting in early means we can plan the care that's best for you and your baby.

Call your GP surgery or health centre and ask for an appointment with a midwife."