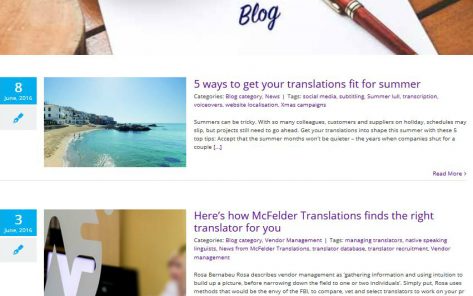 Channel: Print and digital
Role: Writer and marketing consultant
Key challenge
Providing marketing consultancy and writing support for sales collateral including a welcome pack, credentials presentation, case studies and blogs, for a translation company based in Girona, Spain.
McFelder Translations provides translation services to leading international companies and global brands, across print, online, video, audio and face-to-face.
Excerpt
"Rosa describes vendor management as 'gathering information and using intuition, to build up a picture, before narrowing down the field to one or two individuals'.
Simply put, Rosa uses methods that would be the envy of the FBI, to compare, vet and select translators to work on your projects. A keen eye for detail, a good memory and enjoying carrying out investigations, are key to the role of vendor manager."