Growler Beers – Website content creation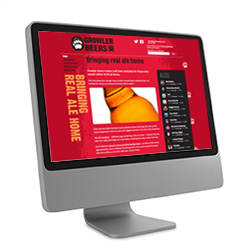 Channel: Website
Role: Content creator
Key challenge
Writing the content of a five page website to launch Scotland's first draught beer takeaway, to coincide with the store opening in Morningside in July 13. The start up business wanted to develop a website to introduce the growler concept to a consumer audience, encourage store visits, get subscribers to the newsletter and handle traffic generated by the social media accounts.

The tone is straight talking, friendly and humorous – I wanted the reader to hear the voice of Stuart Dining, the owner of Growler Beers UK. It goes without saying that my style of writing about craft ales and ciders is very different to the one I use to write about nuclear submarines. Check out more examples of my ability to write in different voices.

Providing ongoing support writing news items for website and sharing on social media.
Excerpt
"At Growler Beers we believe in creating a friendly cycle – nothing is wasted. Our containers are made of environmentally-friendly glass, and can be reused as many times as you like. Simply give it a rinse with hot water and bring it in for a refill. We'd like to think you'll come back time and again. The glass lasts forever; we intend to be around for longer.

If you can't be bothered rinsing, no worries, we'll grab you a fresh Growler. But we will have to charge you a deposit fee. Why? Well, we're not perfect but we like to improve our green credentials, as well as promote responsible drinking. That's why we encourage you to bring your Growler back so we can put them back into service."