ARC – Annual report copywriter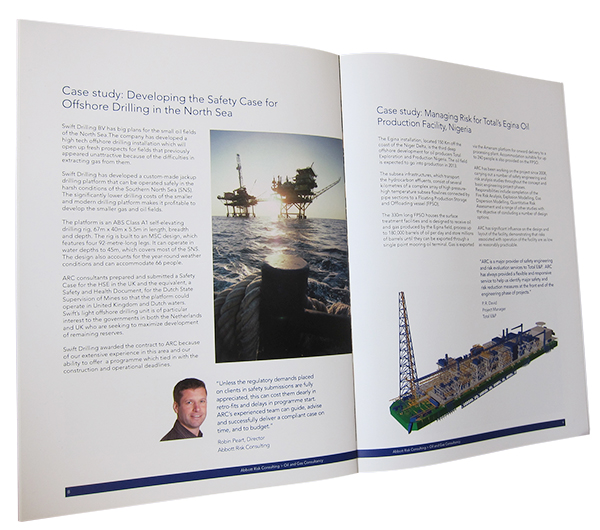 Channel: Corporate brochures and annual report
Role: Copywriter and editor
Key challenge
Editing brochures to promote Abbott Risk Consulting's Nuclear Safety and Oil and Gas work, featuring their skills, expertise, staff profiles and case studies.
I was also the writer of their first Annual Report which contains case studies written from interviews with key personnel, and secondary research to gather industry and client-specific detail. Each case study went through a rigorous review and rewrite process. The challenge was to 'translate' technical content for a general readership.
ARC has offices throughout the UK and is an independent consultancy leading the field (one of The Sunday Times Top 100 Best Small Companies to work for) in consultancy services and technical recruitment, advising clients in the nuclear power, defence, oil and gas, transportation and renewable industries.
Excerpt
"Most consultants enjoy working for ARC because of the variety of work, with opportunities worldwide and in different industries. Anyone who feels the need of a change only has to approach the management team to be presented with new challenges. We believe passionately in giving everyone at ARC the tools, the investment and freedom to drive the business forward.
We enjoy a high retention rate. The few people who leave tend to go because they are leaving the industry or moving abroad. And we often end up working together; typically they will be our subcontractor! We like to feel that people continue to be part of ARC even when they stretch their wings.
The business thrives because we give our people the freedom to deliver; be this in the hours they work, the clothes they wear or choosing to work from home. We trust them to deliver a quality service and communicate with clients directly. Although we have the relevant management systems in place they are used as a validation that our people are effective rather than to make them effective."