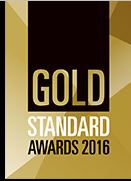 Channel: Marketing
Role: Writing award entry
Key challenge
: Mearns & Company recognised the need to bring in a professional writer to prepare their entry for the
Gold Standard Awards
. The Edinburgh firm of chartered planners wanted the greatest chance of success in the prestigious financial service industry awards.
Words Are Everywhere set out to write an entry that was both memorable, gave a glimpse of the firm's personality and told a story in a way that would engage the judge.
Following a comprehensive process of interrogating the information within the firm, interviewing for additional material and finely honing the answers, we submitted a compelling case. Then we waited…and celebrated success.
Mearns & Company were one of only six advisory firms to be awarded the Gold Standard for Independent Financial Advice.
We are super happy, the help you gave us with our entry was huge, so thank you very much for enabling us to put together and submit a winning entry!"
Catherine Bell, Mearns & Company